[vc_row][vc_column][vc_column_text]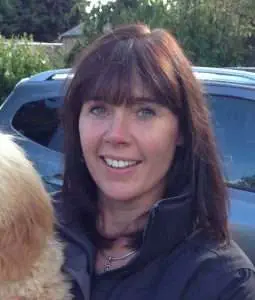 Hello,
I am proud to have founded Dublin Dog grooming. I Love my dogs and I'm lucky enough to have great clients who trust me to play with, exercise and groom their pets, which I am very grateful for. Although it may seem like an easy job, I actually see it as a huge responsibility and have tried to learn as much as possible to further my knowledge and experience in canine education.
Thriving on keeping busy, I have accumulated a large list of dog related achievements, as well as a very impressive circle of groomer friends, both here, in Ireland and Internationally as well. I plan to continue to attend as many seminars, courses and competitions as I can because I thoroughly enjoy them and you can never knowledge is a wonderful thing.
Carol x
Some things I have enjoyed (and still enjoy) are ……
Fully Qualified City & Guilds Groomer 2015.
Award winning groomer in Ireland and Northern Ireland.
MJ First Aid Training Canine First Responder course recognized globally & renewed every 2 years.
Originally trained by Irelands 1st Master Groomer and since then been taught by many, many more industry experts (luckily).
Committee member of the IPDGA (Irish Professional Dog Grooming Association) and very proud to be so. I attend as many seminars as possible to constantly improve both skill & knowledge.
Member of the NAPCG (National Association of Professional Creative Groomers)
Member of the ICMG(UK)
Member of the NCGIA (National Cat Groomers Institute of America, currently studying for next exams
to be cont…..
Some CPD certs below:
[/vc_column_text][/vc_column][/vc_row][vc_row][vc_column][vc_media_grid item="mediaGrid_HorizontalFlipWithFade" grid_id="vc_gid:1491398078741-8ae572a6-f162-6″ include="1151,1146,1147,1148,1149,1144,1145″][/vc_column][/vc_row]